The Early Years
1981 First Public Outreach: "Tent Meeting for Jesus" at Slades Farm Park in Somerset, Massachusetts. Our church continued to host annual tent meetings until the summer of 2003.
1982 Incorporated as a church under the name of Christian Life Fellowship, Inc.
1982- 1983 After meeting for several years in the home of founding pastors Tony and Carol Saraiva, Christian Life Fellowship began meeting at rented facilities before purhasing the present facility in Rehoboth.
1983 Founding Pastor Tony Saraiva, was ordained and set in as Lead Pastor.
1984 Purchased 222 Plain Street Rehoboth, MA.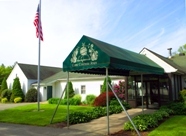 1987 Began affiliation with MFI (Ministers Fellowship International) & also founded Christian Life Academy. This brought strategic affiliation to our church through relationship and the encouragement of ministry leaders like, Dick Iverson, Frank Damazio, Mike Servello Sr. and many others.
1987 – 1989 Expanded our church facility to including additional sanctuary space, classrooms, offices and outbuildings.
1994-2006 Pastor Tony Saraiva, a former firefighter himself, served as chaplain to the Rehoboth Fire Department.
Recent Years
2004 – 2006 Pastor Robert Bernier became the Lead Elder in April of 2004 beginning a transition in leadership. He became Lead Pastor after a setting in service in May of 2006.
2006 Pastors Tony and Carol retired after 25 years of public service. The church celebrated this event in April of that year.
2007 Around this time, our church name was restated as Christian Life Church or CLC. The name is taken from a portion of John's gospel Chapter 10 verse 10. Jesus said that He came to bring "life" to the world. CLC serves to bring the "Life of Jesus" to all generations.
2009 CLC celebrated 25 years (1984-2009) in Rehoboth, Massachusetts.
Over The Years – A Note
A church's history is not merely the history of its pastors or buildings. It is the history of countless souls, people, who have been changed, touched and transformed by Christ. Lasting fruit is measured by many who have been brought near to God and filled by the Holy Spirit. It is the testimony of individuals and families who have been changed by the power of the "good news" of God's love through Jesus Christ and the power of His grace. Many hands have been put to good use in this church. This is all to the glory of God, that there might be a testimony in our generation and in the next.
Psalm 78:5 "For he established a testimony in Jacob, and appointed a law in Israel, which he commanded our fathers, that they should make them known to their children: 6 That the generation to come might know them, even the children which should be born; who should arise and declare them to their children: 7 That they might set their hope in God, and not forget the works of God, but keep his commandments".